Every father-daughter out there shares an unbreakable bond that no one can match up to. They share a connection that is practically inseparable, and their love only grows stronger with time.
The saying that; "Fathers can't really express their feelings out loud." is proved wrong by every daughter out there. Their inside jokes, secrets and understanding they both share makes them absolutely adorable.
Here are some reasons that prove that father-daughter bond is unbreakable:
1. A

Father

is his Daughter's first love

.

He is the first man she looks up to and trusts. He brings out the best in her by teaching her the difference between right and wrong and giving her the opportunity to try new things by herself, and corrects her when she is wrong with a soft tender tone.
2. A Father teaches his Daughter that it is OK to be both strong and delicate.
Girls are delicate beings, and more often than not they try to stay that way. They always want their dad to be their hero at all times, which is good. A good dad loves and protects his children. But also note that a good dad knows that he is not always going to be around every second of the day. So he teaches her to be strong, to be brave. He helps build her self-confidence from within and makes her understand that it is OK to be both strong and delicate.
3. A Father shares his stories and secrets with his Daughter

.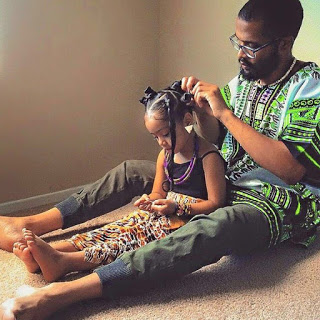 Secrets are secrets and they are meant to be kept hidden. You can't trust someone with your secret when they don't trust you. A good father will do his very best to understand his daughter. So by doing so he opens up completely to his daughter, telling her secrets and making her keep them within her heart. That will give her the courage to want to trust him too. That's how daughters gather the guts to share their secrets with their father. This also gives them great confidence that he will understand.
4. A Father will always make his daughter take risks that will help build her self-confidence.
A good and caring father always knows that a time will come when his daughter will have to stand on her own. So he teaches her to do things on her own. He makes her take risks. Take for example; when she tries to ride a bicycle for the first time. The fear of falling and hurting herself scares her, so she won't want him to let go of his support. He gives her the impression that she can do it on her own even when she knows she can't. He supports her when cycling until she finally believes she can do it by herself, and then he finally let's go. On some occasions he lets her go even when he knows she isn't ready to take the risk. He forces that self-confidence within her to burst out. That is one of the best feeling a father experiences; watching his little girl ride a bicycle by herself for the first time. This also applies to when riding a car for the first time.
5. She makes him express his feelings loud and clear

.

Daughters always have a way of knowing when their father is happy, moody or sad. It's a connection they established between themselves. No one can understand their inside jokes and secrets, and the way they play. She makes him feel what it is like to be a child once again. She makes him express his feelings loud and clear, and she is always there for him even though he acts like everything is OK.
6. When it comes to education and careers, a father is the first person every daughter goes to for proper guidance and advice

.

Almost every daughter sees their dad like a Hero. They get amazed with the way he handles responsibilities. They get this tough picture of him at the back of their head. When it comes to education and careers then don't see anyone more fit to seek guidance and advice from.
7. Every father sees his mother and sister in his daughter, and it makes him love and respects his daughter more

.

Daughters love taking care of their father and giving them all the happiness they can give. Making him happy is at the top of their priority list. This always reminds him of the unconditional love he feels when taken care of by his mother. It brings back the sisterly love he feels whenever he is around her. This is a bond that can only be understood by a father and his daughter.
8. Fathers have a cool way of exposing the outer world to their daughters through Family vacations and adventure camps

.

This is a way they let their daughters know how big the world is. They take them on vacation trips where they meet and interact with new people, see new things, learn new languages and explore how big the world really is.

The love and understanding between a father and his daughter is totally unbeatable. A daughter brings out the best father in a man while that best father is busy raising the most amazing girl.

Shout out to all fathers out there who love their daughters so much. Great Job 🙂